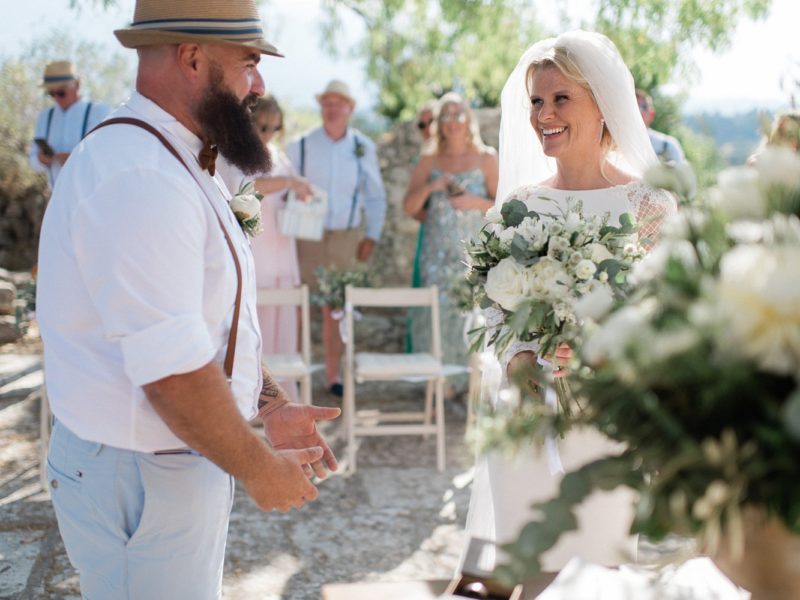 Small Wedding packages in Crete
Suitable for up to 10 people. Small wedding package in Crete, Greece is designed for those who would like to enjoy their island wedding around unique Mediterranean surroundings and break the routine of a typical destination wedding with most essential elements to be included in the standardized offer.Our team of experts will let you enjoy the anticipation of your Big Day, taking on the matter of documents arrangements in the cases of civil marriage, and the operation of planning a marriage within the local framework.
Crete For Love offers three types of small wedding packages: a symbolic event with almost unlimited location options, an official civil ceremony at one of the stunning venues we work with, or a traditional church wedding. Our team makes the most of the relaxed, joyful and romantic atmosphere of island Crete to turn your Big Day into a magical experience.
For a small symbolic wedding in Crete, our standard all-inclusive package contains:
Consulting services regarding location, wedding theme and looks
Meeting with the couple before the wedding
Wedding day itinerary
Professional Master of Ceremony
Portable speaker with microphone
Crete For Love Signature decoration of the ceremony venue
Wedding arch with suitable fabrics & one composition of seasonal flowers
Bridal Bouquet & Groom's Boutonniere with seasonal flowers of the couple's choice
Chairs for the guests
Rose petals confetti
Personalized wedding certificate with couple's names and date of the event
After-wedding cocktail with sparkling wine for all, still and flavored water, seasonal nibbles
Professional photographic coverage of guests' arrival, full ceremony & short couple photoshoot, providing +150 digital images
Coordination of extra services**
*All items are selected & provided by "Crete for Love" according to the wedding theme & location
** Such as beauty services, transportation, live music, etc.
Above package can be adjusted upon request, and colours & structures can be customized upon your inspirations & availability.
This package is also available for an official civil marriage or a church wedding.
Upgrade your package by adding Dinner Coordination.
With Crete For Love supervision this will allow your to:
choose among the most convenient locations to set your reception & dinner
carefully revise together with our Coordinator the menu and drinks options, picking the best of Cretan cuisine and local beverages matching your budget
Our devoted staff will make sure that the smooth operation and the selected decorations will make this wedding reception care-free, unforgettable, matching your personal aesthetics, while we will be by your side until the end of your dinner, leaving everyone enjoying the beautiful party.