Elegant Greek Orthodox Wedding With Italian Twist
Vicky & Anthony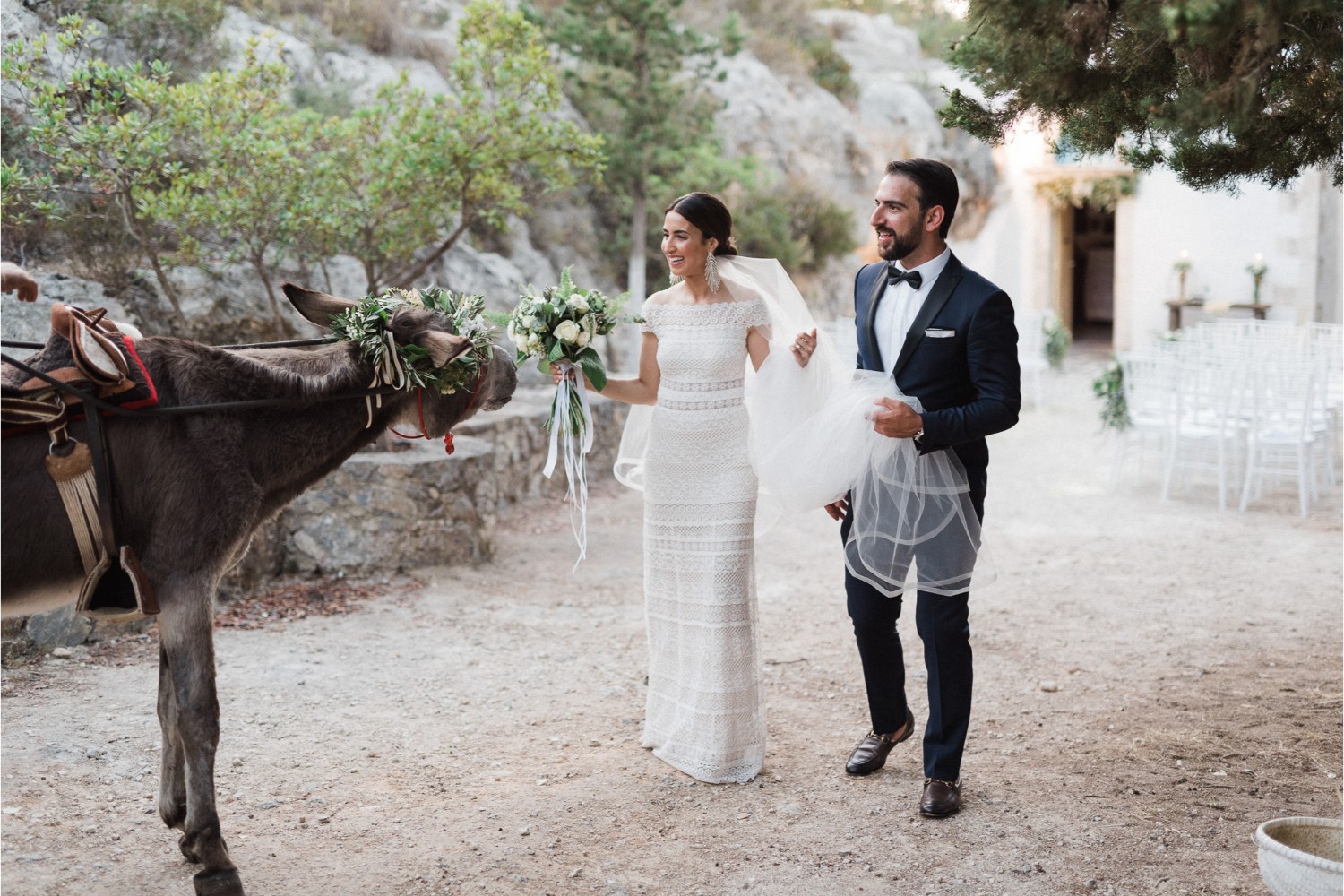 Greek Orthodox wedding of the year? Quite possibly! Vicky and Anthony with their beautiful energy and sense of style inspired us to plan their gorgeous Greek Wedding with a chic Italian twist here, in Chania, Western Crete.
This was an event of a great scale, exactly how a Mediterranean wedding should be, with more than 150 people honouring the couple with their presence! Vicky and Anthony have rented a private villa complex close to Chania, with gorgeous outdoor space and palm trees for their pre wedding dinner & party, and the get-togethers with their friends during their week's stay. Every thought-through detail enhanced the glam and festivity of this church wedding in Crete. Tasteful minimalism was combined with the best traditions of the two cultures, creating a unique ambience. Vicky and Anthony created a logo for their wedding that was imprinted on all stationery & little details – from the confetti cones to the menus and their welcome signs.
The Greek Orthodox wedding ceremony took place at a classic white-and-blue chapel, where the bride appeared in her vintage dress, the look amplified even more by the stylish accessories. The simple ceremony, with the couple following all the traditions of the Choros tou Isaiah, the shared glass of wine and the stefana, was followed by a rain of rice & rose petals (another Greek tradition) and a few family portraits. After the ceremony, the guests were taken departed to the reception venue for their cocktails, while the newlyweds escaped for a photo shoot, accompanied by the photographer and a cute Greek donkey 🙂
The wedding cocktail & dinner, with its eclectic fusion of Greek and Italian flavours, took place in the sea view setting of the villa where the guests enjoyed the sunset and the long night. The tables were decorated with hurricane vases and lots of exotic greenery that added Greek motives to the minimalistic look of the event, while the couple has arranged for a Cretan live band and a DJ for guests entertainment and a talented children entertainment's kids' animation team for younger guests. Along the traditional local music, the Cretan dancers left no-one indifferent with their passionate show and expression of the Cretan culture, easily shared with the guests.
The stunning wedding of Vicky and Anthony was widely admired and featured by a number of wedding blogs and magazines, standing out with its unique style and magical atmosphere.