Symbolic Chinese Wedding In Rustic Cretan Mountain Villa
Zhida & Yuan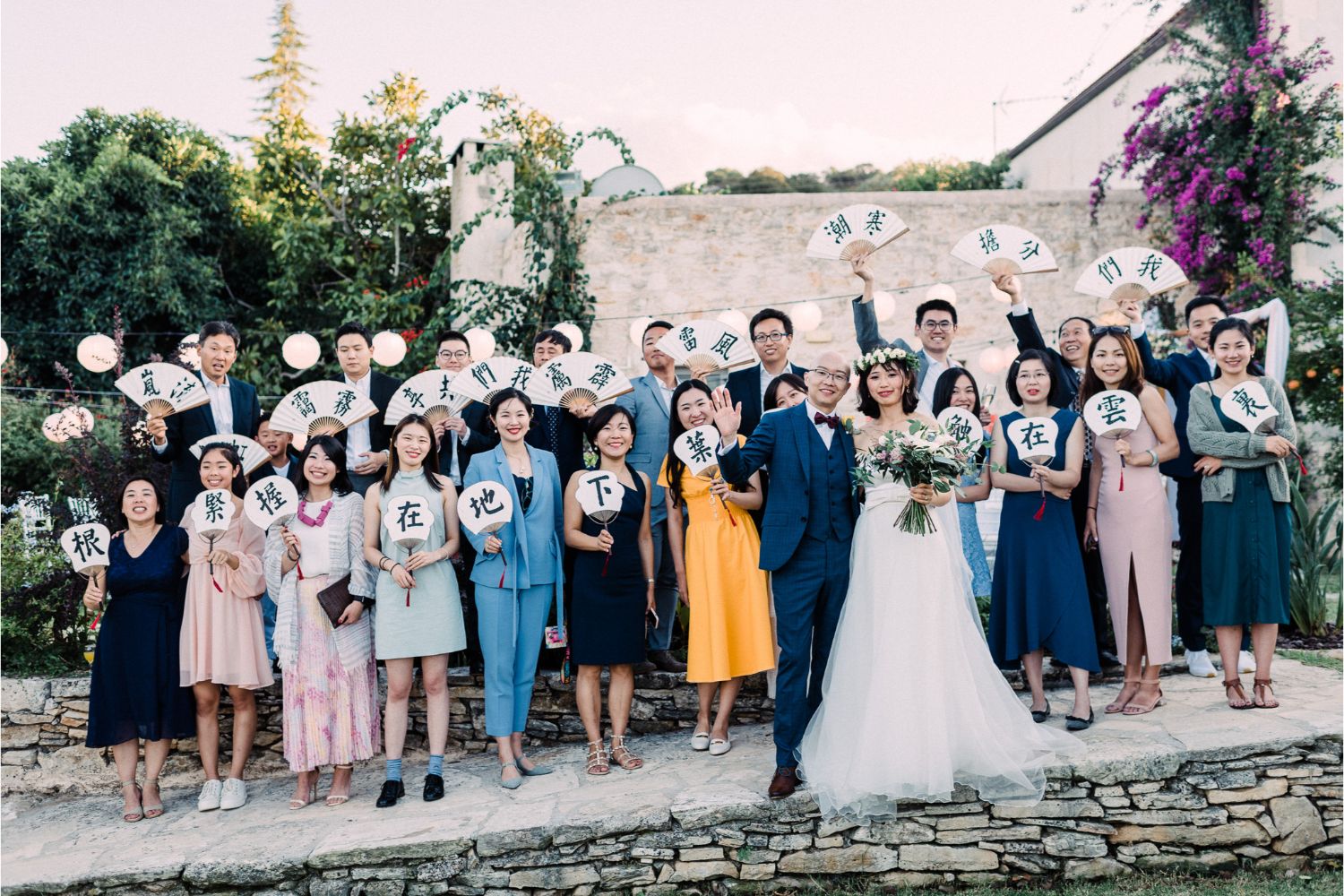 Take an intimate Chinese wedding and transfer it to the unique setting of a Cretan mountain village and, combining the best of two cultures, you will get a one-of-a-kind experience.
Closest friends & family of Zhida & Yuan flew in from around the world to celebrate the love of this couple and share with them this special moment. To emphasise the great legacy of their beautiful country, the future Mrs. & Mr. together with the team of Crete for Love incorporated various elements of the Chinese culture and rituals: from the traditional tea ceremony to paper lanterns installation and signs for good luck and prosperity, the oriental details came together in a gracious harmony with the traditional rustic Chania complex of villas, where this small wedding was taking place.
The Big Day of Zhida & Yuan started with exciting preparations and family moments, continuing with the arrival and greeting of the guests, who were welcome with catered drinks, light snacks and charming Chinese paper fans. After the welcome drinks, the guests were invited to the garden for the ceremony. The organic look of the space and the minimal wooden arch, decorated with two lavish flower compositions, created a truly whimsical atmosphere, evermore illuminated with soft festoon lights, paper lanterns and hurricane candles set around the pool.
Once the guests were seated and the groom stood waiting for his beloved one under the colourful arch, the bride walked down the aisle, looking beyond adorable in her ethereal dress and white flower crown. Following the kind speeches of their closest ones, Yuan & Zhida tied the knot, exchanging rings and making their union official! The newlyweds walked into a cloud of rose petals confetti, receiving warm wishes from their friends and family and toasting to the moment with the first glass of sparkling wine in their new roles, the ones of husband and wife.
Letting their guests enjoy the after-ceremony toast and exchange congratulations between the two families, the new Mrs. & Mr. took on a mini photographic adventure, strolling around the picturesque Cretan mountain village, its fuchsia bougainvillaea corners and rustic stone walls. Fairy-tale, no less!
Upon their return, the space of the villa's courtyard was recreated into an open-air wedding reception. While the classy elegant tables were decorated with colourful centrepieces set on bronze stands, every plate set presented customised wedding stationary and a stylish guest favour marble box with local products. In this ambient environment of elegance and Cretan autumn, the newlyweds and their guests enjoyed a catered 4-course dinner that offered the best of the local cuisine.
The Cretan wedding of Yuan & Zhida concluded in a joyful small party, where the DJ played their favourite music and everyone enjoyed late-night drinks and beautiful company.