Dusty Summer Moho Wedding Story in Chania
Private beach villa styled photo shoot in Crete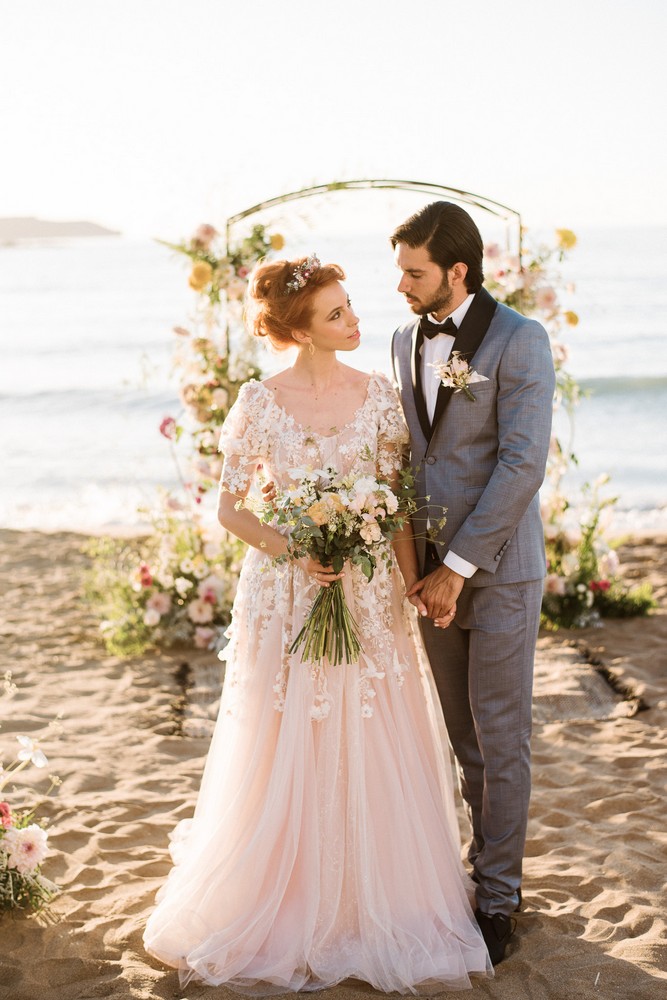 Late June on the island of Crete… is what we found the best period for styled seaside private villa photoshoot beach day followed by the bridal story photographed in Cretan village of olives and laurel groves – Apollo's beloved tree!
From the sandy soft coast washed by the Mediterranean waves and warm Greek sun to the Cretan history hidden among saturated greenery of traditional village with its rocks and pale rustic walls  stroked by years of strong sun rays and winds walls, we set our wedding story in between two best nature dimensions that Crete has to offer.
Best Combo we love and to be loved by our couples is Blue and Green Concept of getting married and celebrating in Crete, Greece.
This styled summer photoshoot started close to Chania town at the premises of exclusive for Crete for Love event sea view villa, located right on the beach – Villa Glaros. Obsessed with shades of Greek island summer incorporating in one "canvas" we blended touches of lemon, peach, honey, cream, gold, sandstone and brushed those up with zingy and fresh watermelon and soft purple sunset colors.
While in Crete, it is only natural that wedding ceremony would take place on the beach and best colors of natural light would be released at late sunset hour. Romantic and traditionally classic with discrete metallic arch and wooden cross-back chairs dressed up with bouquets of dahlias, roses, tulips, iris, lysianthus, freesia, chrysanthemum, peonies, carnations and even more we created comfort and coziness within complexity of ceremony that each couple seeks for their wedding day.
Mediterranean style of celebrating outdoor craved for modern twists and so the heavy wooden village style table for al-fresco dinning was matched with funky gold chairs, minimal of style and organic colors plates, carpet & golden silverware.
Playing around with floral centerpieces we aimed to propose two inspirations of more garden style diversified flowers set in high transparent vases for earlier in a day celebration and of an official lavish garland for the late evening.
Modern and classic, framed and less consistent, mixing styles and structure with extending your wedding color palette from white and beige can come with an outstanding and flawless effect.
Digging into all wedding planning details, don't be shy to choose funky designs for your wedding stationary, wedding cake and change the classy look of festoon ambient lighting with touch of color – yellow or pink, why not?
As the beach wedding story may come to an end with blue waves and "salty kisses", here in Crete we encourage you to enter into the "green" part of celebration.