International Catholic Wedding In Chania
Joanna & Mike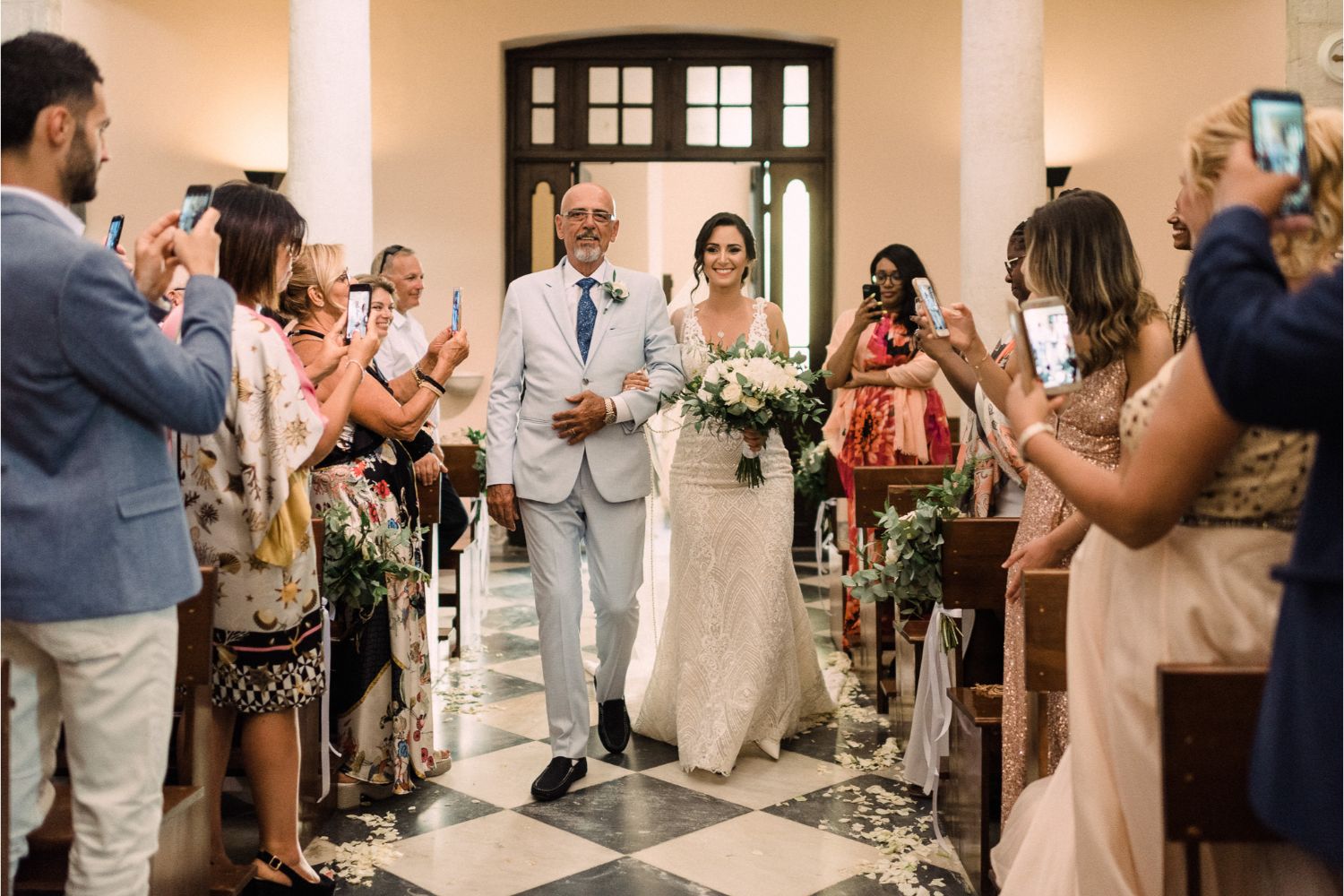 When the bride and groom come from different backgrounds, their wedding always turns into a unique fusion of cultures! The catholic wedding in Crete of Joanna & Mike was no exception. With their friends and family coming from two continents and representing dozens of nationalities, the Big Day of this couple was as international as it gets. Crete appeared to be the perfect meeting point, providing unquestionably beautiful setting for tying the knot.
The culture of the bride offered many interesting wedding traditions that were respected throughout the day, starting with gifts and flowers exchange between the families during the morning preparations. The women of both families, as well as the bridesmaids were in the care of beauty services professionals, having their hair and make up done for the special day ahead of them. When the time has come, Joanna looked just stunning in her white dress with intricate lace detail!
The wedding ceremony took place in the beautiful main Catholic Church, in the heart of Chania's Old Town. Accompanied by her father, Joanna walked down "the aisle" – the main historical street of the Old Port, sunlit, entering the church where her husband-to-be and the guests were waiting for her in anticipation. To embrace the humble aesthetics of the Catholic religion, the space of the church was minimally decorated with aisle bouquets and altar composition of white roses & greenery. The sacred ceremony was conducted according to the Catholic tradition: meaningful blessings by the priest, bride & groom sharing wine and bread, and pronouncing the vows. This moment had a truly special energy!
After walking into the rain of confetti and receiving best wishes from their friends and families, the new Mr. & Mrs went for a romantic stroll around the Venetian Harbour of Chania having their photographer and videographer capture these moments for their memories.
Meanwhile, the guests were arriving to the reception venue, right on the seaside of Mediterranean. The day of Joanna & Mike was all about chic classics, and to convey this tone through the second part of their Big Day, we continued with the timeless combination of white and green. The table centrepieces of greenery & white flowers in bronze urns, the stunning garland on the bride & groom table and the photo-booth with colourful ribbons provided a fun & classy look to the venue.
As the sun was setting, the newlyweds made their grande entrance and the party has started! The dynamics of this wedding reception were exceptional! After a 4-course dinner with traditional Cretan dishes served by the catering, there were toasts and speeches, surprises and games, fireworks and lots of dancing to the DJ… This multicultural atmosphere with its fun rituals and traditions swiped everyone off their feet!
Classy and fun, the wedding of Joanna & Mike had a very unique feel to it, staying in our memories as yet another special event!