Whimsical Seaside Wedding In Western Crete
Lina & Casper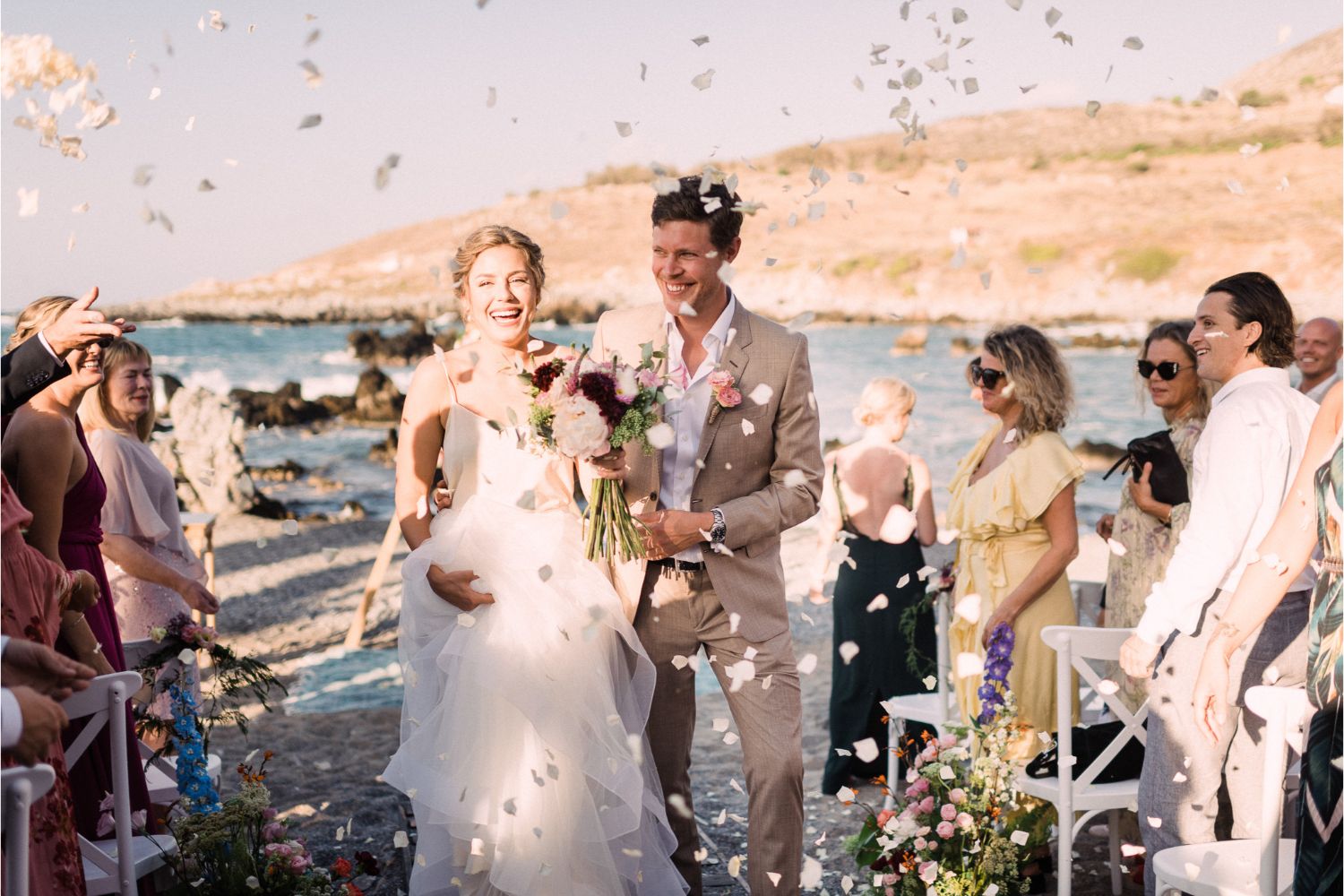 Lina and Casper, international reporter and progressive entrepreneur, were one of the most interesting and dynamic couples we had a pleasure of working with! Their forward-looking views on the environment have set the tone for the concept of their wedding in Crete from the very beginning: Lina & Casper were looking for something organic, a wedding that would embrace the local nature.
The wedding was chosen to take a place at a seaside villa, with direct access to the beach and tall palms, that offered privacy for the couple and their guests along with the natural Cretan setting the couple was going for. Being true to the authentic local feel was also important for the bride and the groom because of Lina's Cretan roots and Greece being a big part of her life from the very childhood.
The bride and groom wanted their Big Day to revolve not only around their love but also around their friendships and families that they felt so fortunate to gather together around them on this beautiful day. With that in mind, and with the planning help of Crete For Love, the couple threw a pre-wedding beach party for their guests, with BBQ sea food, meat and salads served in a large buffet, accompanied by local wine and beer, while everyone was dancing to еру cheerful summer tunes.
As the wedding day arrived, the extensive festoon lights installation and floral arrangements transformed the villa to a wedding venue and added an ambience of chic wedding simplicity! The symbolic ceremony took place on the pebbly beach, with the wild rocky landscape creating tasteful contrast with the white classy chairs, the triangle boho arch and the bright flower compositions that emphasised the vibrant spirit and youth of the couple! The touching ceremony was followed with group portraits, bouquet throwing and the photo session of the newlyweds.
The cocktail hour was fun, full of laughters, congratulations and exquisite cocktails from the mobile bar. Following that, the new Mrs. & Mr. invited their guests to take their seats for dinner to start! The tables, embellished with colourful dinner centrepieces and customised wedding stationary, truly stunned everyone. With respect to the traditions of the joining cultures, there were many amusing surprises and moving speeches that, despite the joyful buzz, added a cozy intimacy to the atmosphere, over the course of dinner.
Following the performance of Cretan dancers and the cutting of their impressive cake, the celebration of Lina & Casper lasted far into the night making this day truly unforgettable for the newlyweds and their closest people!