Ombre Funky styled photo shoot at Markakis Estate
Wedding venue Crete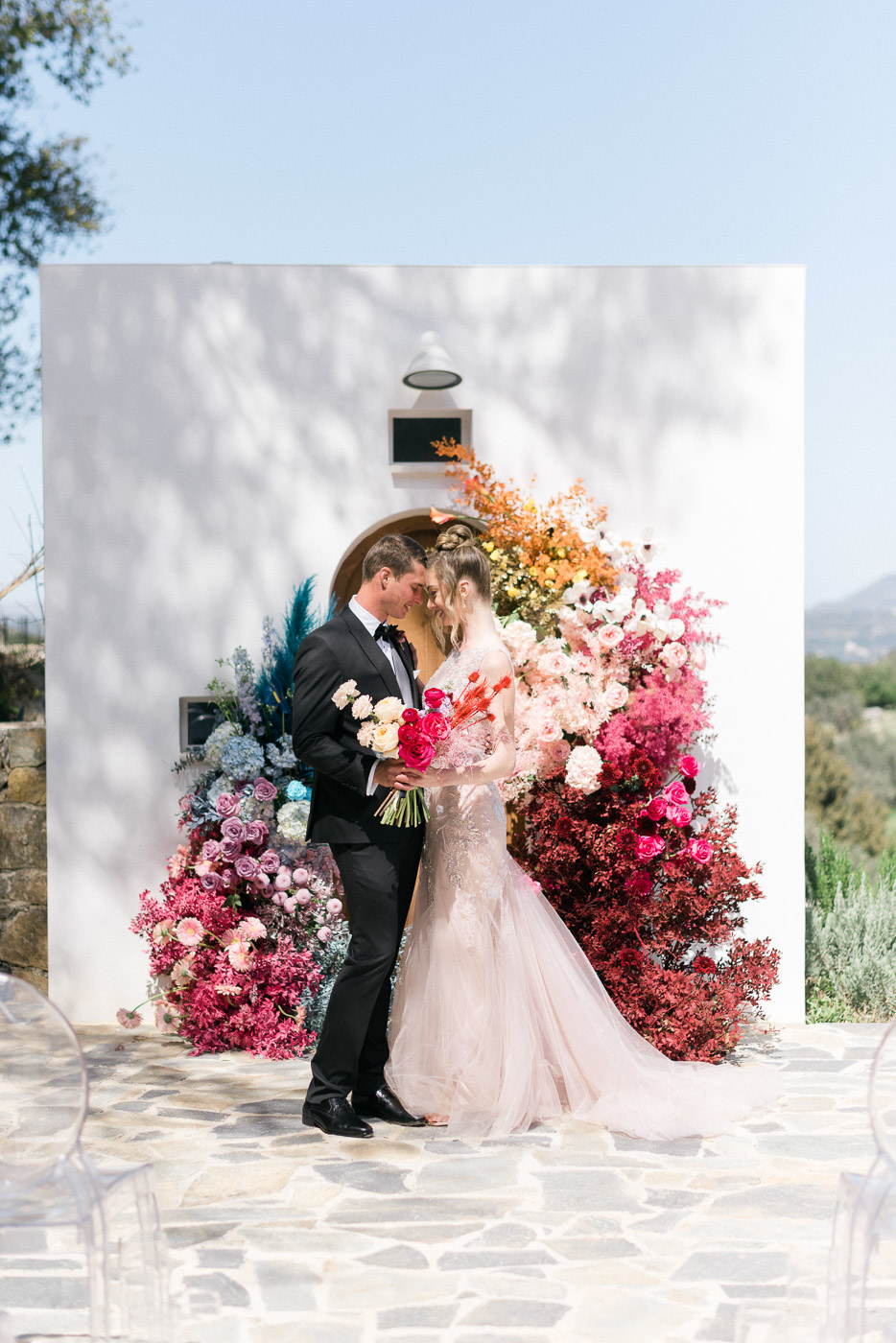 Crete is about variety of landscape and seasonal chapters introducing flavors and shades that only Cretan nature can offer. There is no reason to limit yourself while getting married on this biggest of Greek islands. Ombre effect will trend your special day showing dark and light colors as the proof of life's circle and palette of emotions Crete evokes.
We have chosen for this styled promo shoot the unique location of Markakis Estate. The wedding venue on Crete, where organic and ascetic designs allow for your wedding ideas to stay fresh and blend modern with classy entertainment. Vivid colors and their intensity have a goal to emphasize the meaning of celebration as real love is never blank.
Your wedding day is to dare!
Fluffy, colorful florals, romantic yet catchy will take your guests breath away. Setting them in front of the white Greek chapel, and mixed with minimal transparent ceremony chairs, is where the traditional and amusing part will happen.
Your reception tables set ups shall follow the groovy and disco trends. It is not just a dinner. It is about being together to laugh and party. No better way than adding to your decoration funky and edgy elements mixing various colors and structures of glass and silverware with colorful stationery and disco balls.
Mirror balls are an absolute must for the success of contemporary love parties. They will spark up your day with positive energy for the night entertainment and sexy looks, may it be a dancing floor or a customized bar service.
As the wedding day has its stages from vows to cutting the cake. Your wedding cake shall be a grand statement of a sweet moment and your vows shall follow the story of event. You can design your wedding dress with soft sequins and a flawless mermaid style bottom that perfectly match any groom's black tie appearance. Once the dinner begins, the less official part of the wedding opens. It is a moment of makeover. A sexy jumpsuit for the bride and change of hairstyle into rich "Hollywood" style curls is our proposal. Play around your jewelry and do not avoid shiny rocks!
Signature drinks introducing romantic and funky cocktails shall be on your priority list to finalize the fun and uniqueness of the day that will write the history for yourself and your guests!
While choosing a destination wedding, never skip a meaning of local culture; from their cuisine, music and nature. Drag the best for the experience that only this place can offer. Invite a Cretan band, stroll around the nearby village…
Get inspired and embrace the moment. Cheers to All getting married in Crete now and in the future!
From Crete with Love,
Anna Laudanska
Credits:
Planning & concept: @creteforlove
Private venue: @markakisestate
Photographers: @sotiris_tsakanikas & @andreas_markakis
Video: @dgfilmsgr
The couple: @fashioncult_models
Hair & makeup: @michalistsotras
Handmade wedding dress: @athina.tsolaki
Men's clothing: @kalogeris_collection
Bar setup: @ mastiqgin_ /
Florist: @manfler.florist
Lighting: @ultra_special_events
Equipment rental: @feel_ultra_event_rentals
Jewelry: @tresor_jewellery_boutique
Shoes: @zakroshoes
Stationery design: @agie.t
Candles: @cretancandles
Wedding cake: @monterno.catering
Pre wedding casual outfits: @thelmaandlouise.shop / @athina.tsolaki
Live Cretan music: @sifis_giannaris & band