Small Wedding In Luxury Chania Villa
Ariane & Conor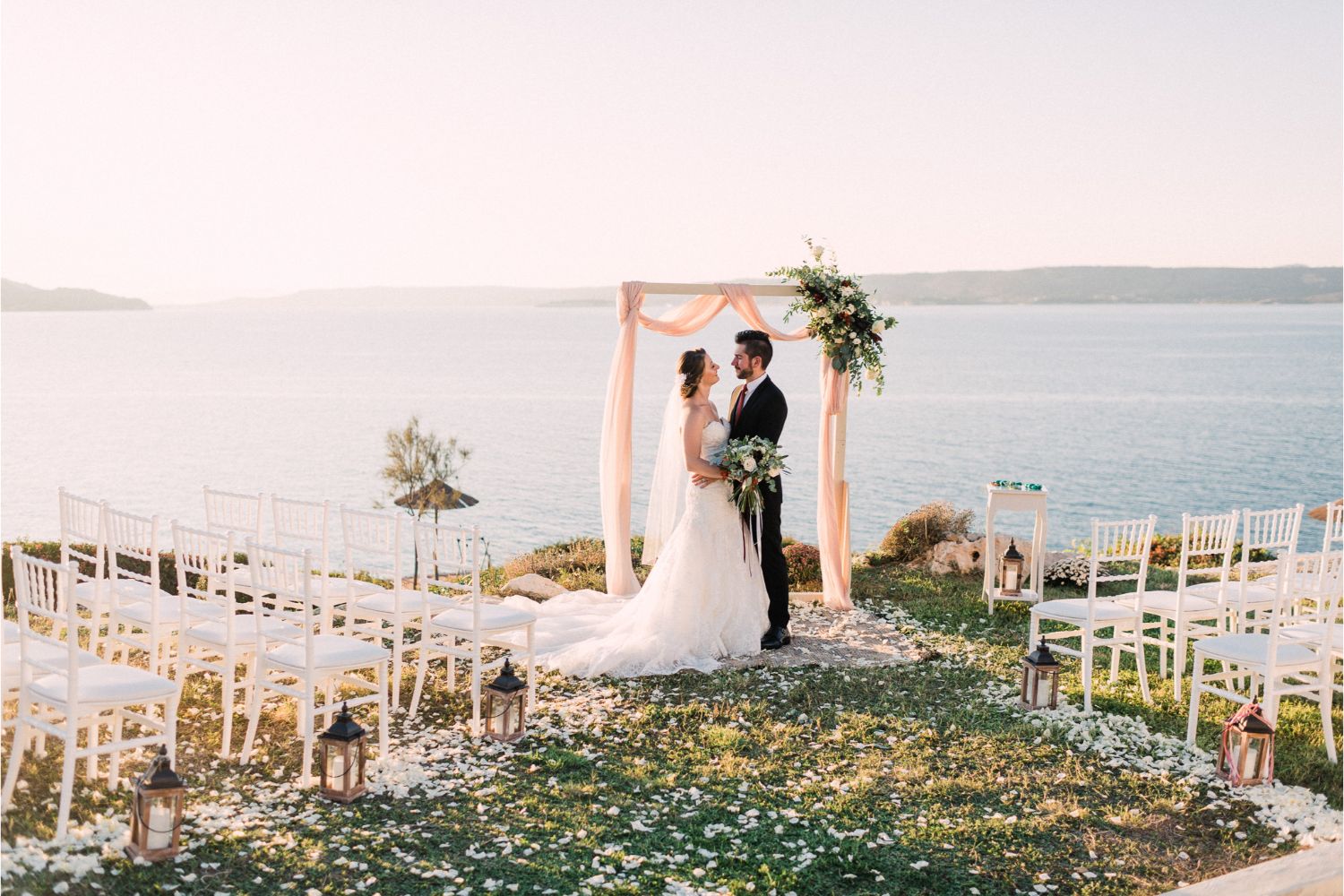 The beautiful aura of Ariane & Conor and their closest circle called for an intimate and delightful space, to celebrate the union of this young couple. With this in mind, for their Big Day, the bride and groom selected a classy luxurious villa, with truly breathtaking votes of the bay of Chania, that truly embraced the pleasant vibe of their crowd.
The preparations for Ariane & Conor's symbolic wedding in Crete started early in the morning, in the atmosphere of fun and joy. Accompanied by their best friends, the bride and the groom were getting ready for this special moment, toasting to the bright future ahead of them and enjoying amusing photo session of this behind-the-scenes wedding action!
Against the background of the endless blue Mediterranean waters, Crete For Love team set up the ceremony, arranging the elegant white Tiffany chairs in an amphitheatre shape and laying out the aisle with white rose petals. The П-shaped ceremony arch was decorated with pale pink fabrics and a beautiful flower composition of white & burgundy roses, the combination matching the colours of the bride's & bridesmaids' dresses.
When the time has come, the circle of the couple's dearest took their seats and Ariane, in her magnificent bridal allure, walked down the aisle to join her groom. The Master of Ceremony pronounced them husband & wife and the newlyweds shared a kiss, first of many in this new exciting role. To capture the magic of the moment, the feeling of happiness and love, the newlyweds went for a photo session around the private premises of the villa. In the golden light of the Cretan sunset, the bride & groom looked just captivating!
Back at the villa, guests were savouring the after-ceremony bubbly and celebrating the union of their beloved ones. The wedding reception table was set in the outdoors area, overlooking the sea and breathtaking sunset, embellished with greenery garland & ambient candles. The dinner started once the couple got back from the photo session, with a variety of Cretan classic dishes with a gourmet twist catered throughout the evening. The family-style serving and the special ambience of the place brought out the atmosphere of homily celebration.
On this beautiful day, both the newlyweds and their guests enjoyed a great party, with lots of drinks, danced to their favourite music and heartfelt late-night conversations!