Dazzling International Villa Wedding
Ilva & Chris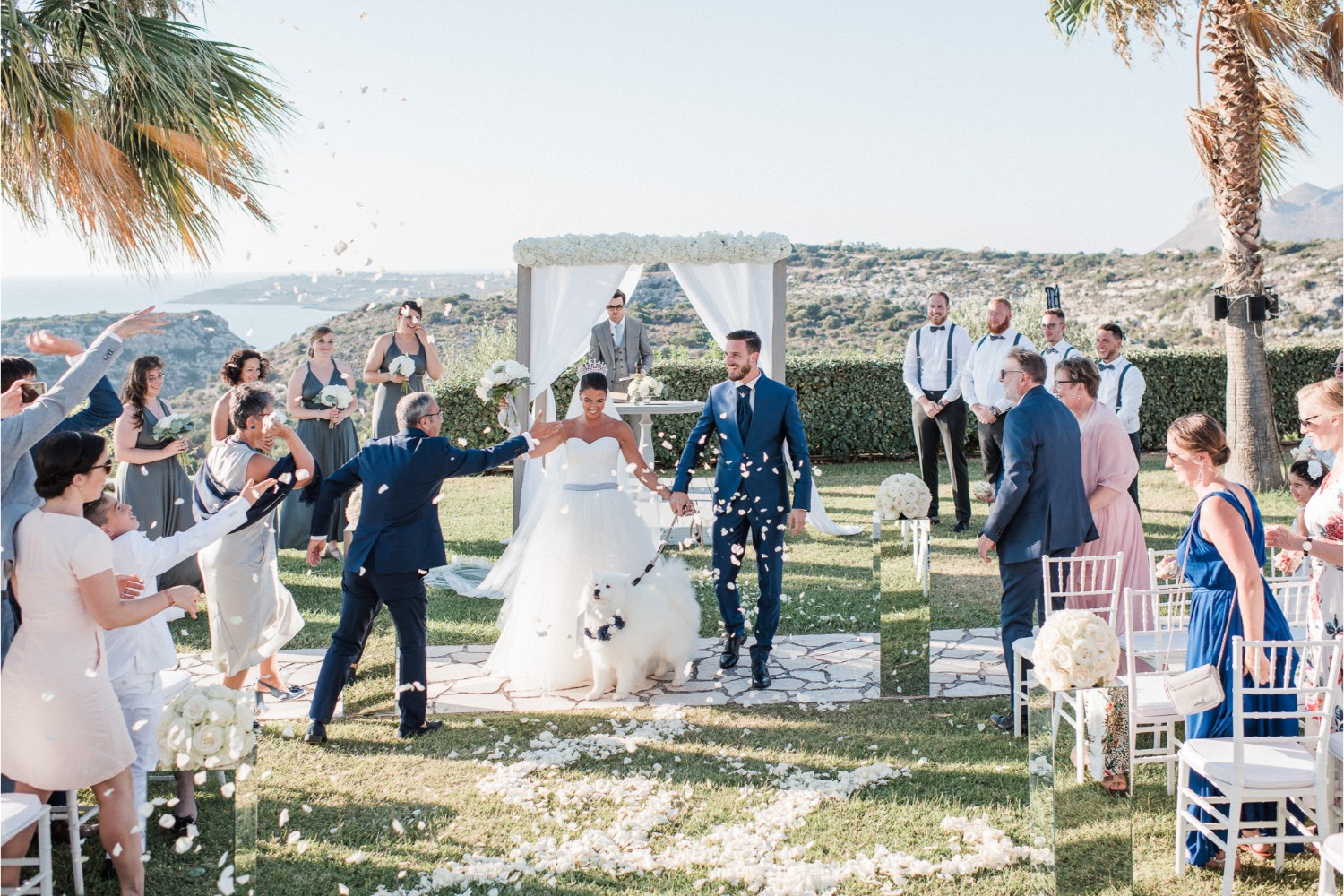 Ilva met Chris through mutual friends at the most famous bar in Luxembourg, the charming city where Chris is coming from and to where destiny happened to bring Ilva from sunny Italy. Together, they formed a beautiful bond combining their diverse backgrounds and personalities into something truly unique.
Crete For Love has planned for the couple a rich programme, overflowing with adventures and unique moments. Meeting our photographer Andreas Markakis at sunrise on a beautiful July day they had a photo session on a quiet sandy beach and then took off to begin their little trip. A private boat brought them to a magnificent secluded beach located at the bottom of a gorge where they met the dawn, perhaps the most incredible one of their lives! The photo shoot continued as they sailed off to the charming Old Harbour of Chania and dived into the deep blue waters of Mediterranean. Following that, Ilva and Chris had an intimate and tasteful boudoir session at a luxury boutique hotel and shared some bubbly in the anticipation of their Big Day.
The wedding took place at a luxury private villa complex and it was all about ELEGANCE. Crete For Love team made sure to match every element of this wedding to the classy personalities of the couple: extravagant mirror columns, countless peonies, slick graphics, and white tones all around!
The time has come, and handsome Chris was standing at the fairy-tale altar, surrounded by the bridesmaids and groomsmen. When Ilva made an appearance, she looked like a true princess in her designer dress and the dazzling royal crown. Looking back at this moment, the bride compares it to a Hollywood movie where a princess meets her knight. That is how special she felt!
When you thought the ceremony couldn't get more touching than that, their fluffy dog trotted through the aisle carrying the sacramental Tiffany's ring holder. BOOM: an explosion of rose petals, and it became official!
After exchanging words of love with their beloved ones, Ilva and Chris went for one more photo session, this time as Mr. and Mrs. and at a sunset, that being a metaphor for the new climax of their love…
Next, it was the time for an impeccable five-course dinner from Siganos catering and, of course, a joyful party. The amusing blend of Greek, Italian and Swiss traditional dances coupled with exceptional cocktails and lasted far into the night.
No lie, this night will stay in our memories for a long while!