Seaside minimalism and rustic winery for organic wedding in Crete
Bianca and Brad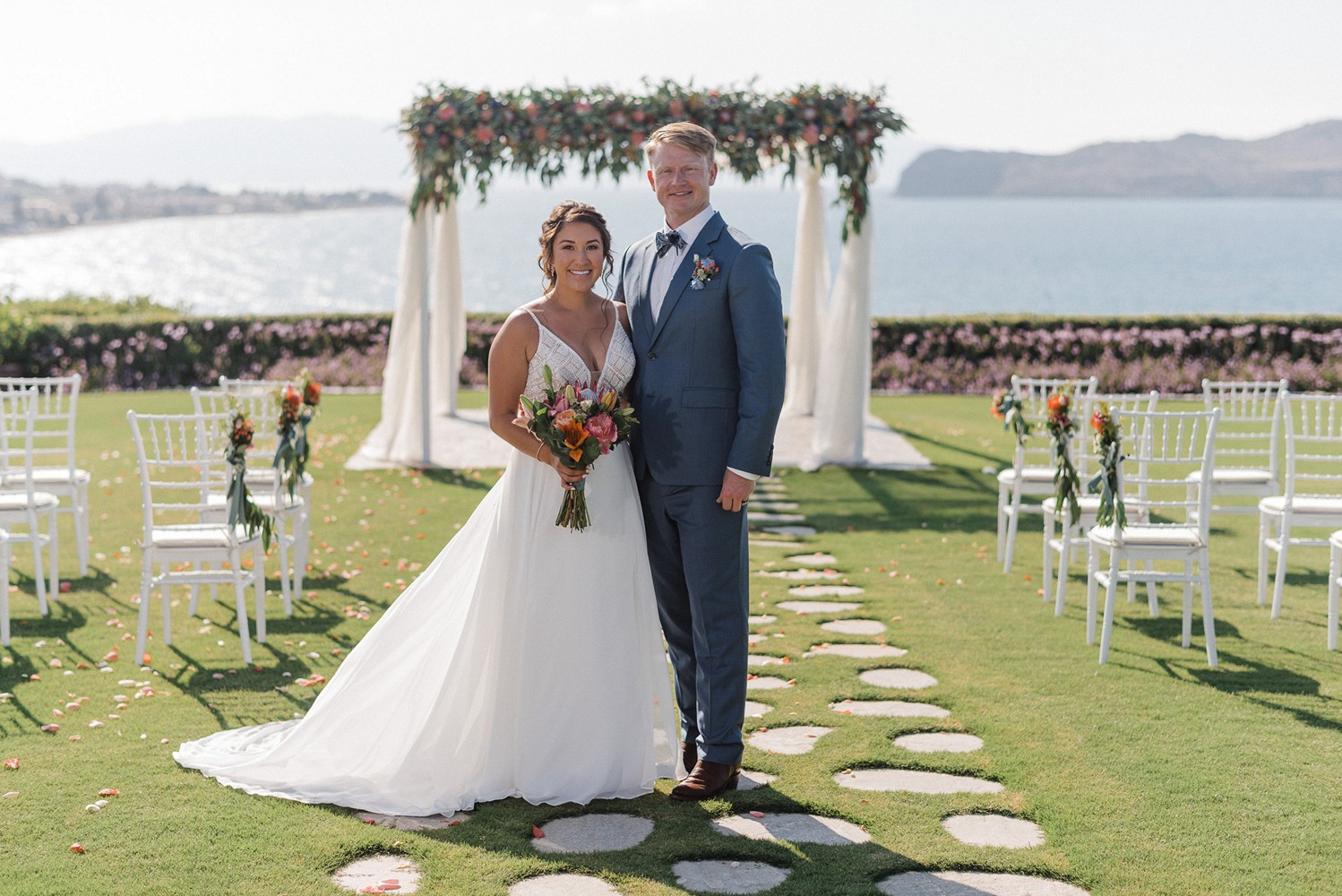 In between rustic lavishness of Cretan inland and ultimate minimalism that seaside locations can offer, this is where Bianca and Brad decided to tie their knot and host their 2-day wedding events.
Choosing the same winery for the reception day later, their pre wedding gathering was more about wine tasting and simple Cretan meal experience. Just one long wooden table adorned with candles and wildflowers, mostly lavender, kept the organic and authentic atmosphere of this pre wedding evening.
Wedding day started at Chania Harbour where, after following Crete for Love tips, together with their families the couple chose to stay and have their first look moment with background of Chania Venetian dockyards.
Not even a 30-minute drive and the welcoming cocktails where waiting for Brad and Bianca travelling with their guests. Spacious private venue, surrounded by the blooming exotic paths of garden and impressive path of palm trees, was stroked by the early afternoon June's sunrays.
The bride walked down the cobbled stoned aisle towards the groom standing under the white canopy. The blue of the sea and soft grass colors mingled with the colorful wedding flowers that Bianca loved having for her special day.
Afterwards, the party of this micro wedding travelled East to continue their reception at the elegantly decorated winery keeping liveliness of colors and wood touches.
Classic heavy wooden tables and wooden chairs comfortably accommodated needs of this wedding that still needed to face some Covid limitations of seating plan.
It was a family wedding with closest ones and lots of joyful yet peaceful accents.
Needless to say, best Cretan flavors were served, and local wines cheered the night.