Seaside Ceremony & Winery Reception Of Wedding In Western Crete
Emily & Brad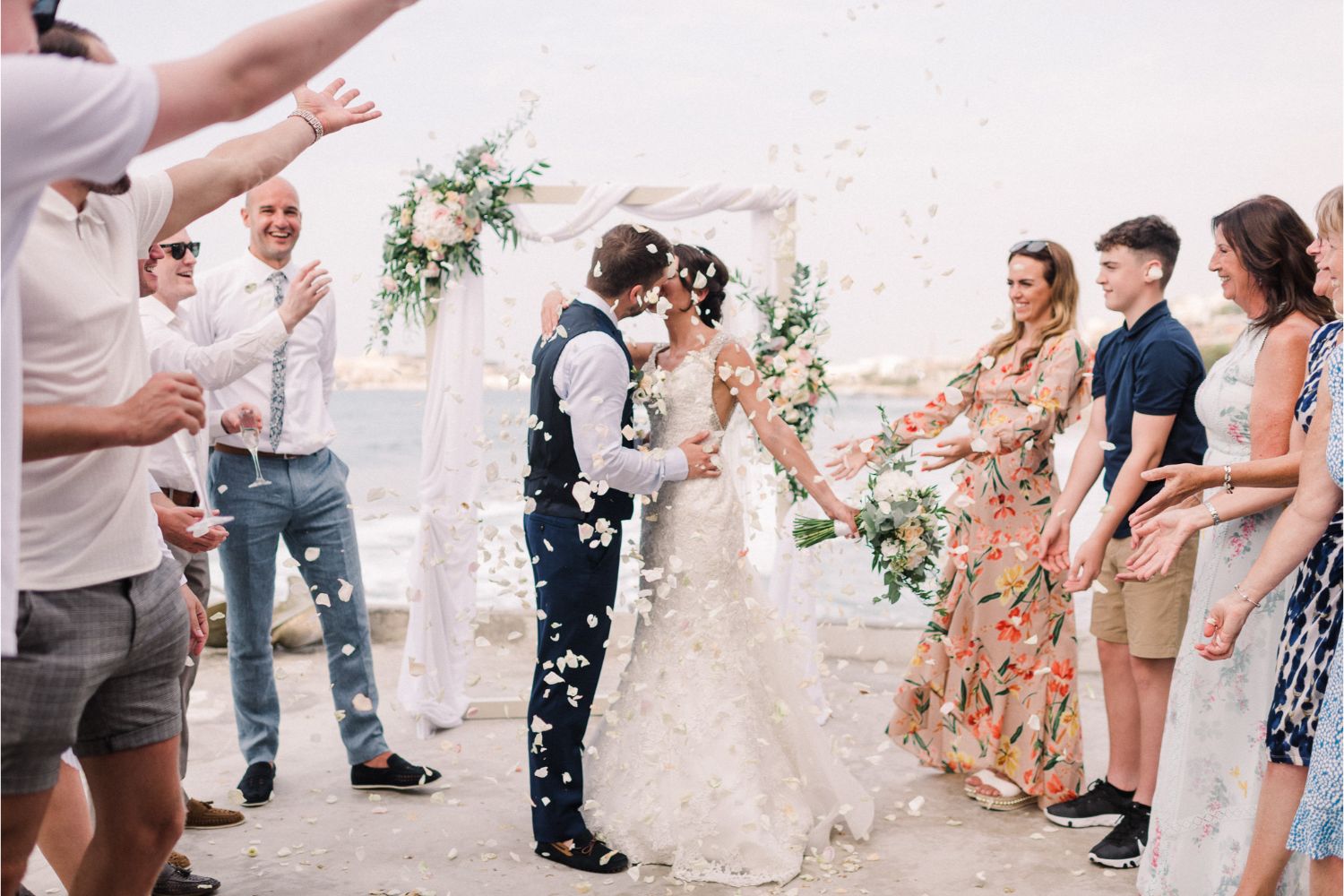 Combining the two best features of Crete, the majestic Cretan sea and the rustic setting of the mountains, is one of the best ways to go for a true Cretan wedding. This is what Emily & Brad picked for their Big Day, and the experience of their wedding was truly unbeatable!
Embracing the gentle vibe of this young couple, Crete For Love opted for the soft palette of greyish green (sage, eucalyptus) and light peach when it came to floral decoration and personal flowers of the bride and groom. The wedding stationary, prepared by Crete for Love, teamed up with the colors and added a touch of modern romance.
From the fun bridal preparation session, the day moved on to the most exciting moment of the day – the ceremony, that took place in a private terrace overlooking the Mediterranean. The guests witnessed the bridesmaids in their velvet navy-blue dresses opening the path to Emily, ethereally walking down the aisle in her stunning bridal gown. Brad's breath was simply taken away! After pronouncing their vows and exchanging their rings to the sound of the sea waves, the newly Mrs. and Mr. kissed under a shower of rose petals confetti like this was their very first kiss ever!
After their cocktail hour it was time for guests to head to the rustic Cretan winery for the wedding reception. The atmosphere of celebration was already set with floral arrangements and ambient light installation, upgraded by Crete For Love. From the couple's arrival and throughout the dinner, the DJ played light funky music that prepared everyone for the lively party ahead of them.
Dances to the best fusion – modern hits and 80s classics, followed by cake cutting: the wedding cake was beautifully embellished with slices of lemon. The party went on till the late hours, and guests enjoyed the atmosphere and amazing weather of September.
The wedding of Emily & Brad was one of the most fun & light events of the year, and as guests admitted, one of the best weddings they've attended!