Colorful mid-October beach wedding and Estate reception in western Crete
Dagmara and Piotr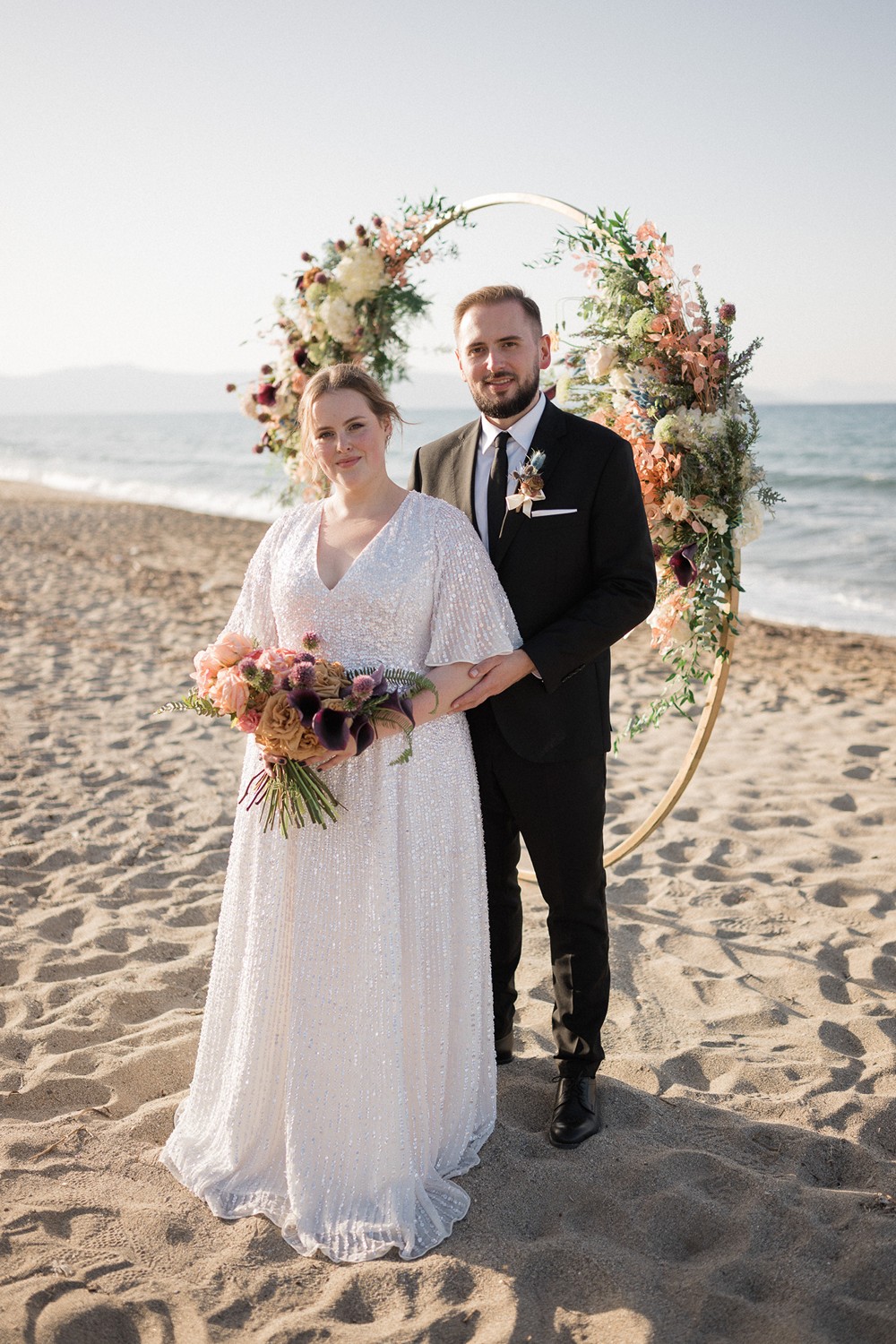 Under the soft embrace of mid- October sun, Dagmara and Piotr traveled all the way from Poland to exchange their vows and celebrate their love with their favorite people in the beautiful scenery of western Crete.
Dagmara took care of every detail with us, to create an intimate wedding, so the couple and their guests enjoy the ultimate wedding experience combined with the amazing Cretan weather and landscape.
A golden round arch was decorated with zingy colored flowers and big similar arrangements decorated the ceremony aisle. The colorful flowers in contrast to the blue sea and sky created an amazing scenery for a fall -more like a summer- wedding.
As the couple arrived and was walking down the aisle hand in hand, the air was filled with emotions of joy and happiness for the unity of them. The sound of waves created the perfect background for the ceremony.
After the ceremony, the couple enjoyed some drinks and seasonal fruits from the welcome table at the beach with their guests as well as a romantic walk on the sandy beach where they took some amazing photos to capture their special day with unforgettable moments!
Then the couple with their guests headed to Markakis Estate, a private and modern villa nestled in the olive groves of Cretan mountains to enjoy their dinner and party afterwards.
A special dinner table with colorful arrangements and blue and green candles had already been set in the middle of the spacious square of the estate. The custom handmade guest favors added a special and Cretan inspired touch to the evening. In every seat, there were unique bouquets with herbs from Crete and name cards from seashells.
Bouzouki vibes during the delicious dinner made the atmosphere even brighter and festive.
The whole day was like a fairytale and we're very happy that we were part of the process!