Colourful Civil Wedding In A Rustic Cretan Estate
Clare & Richard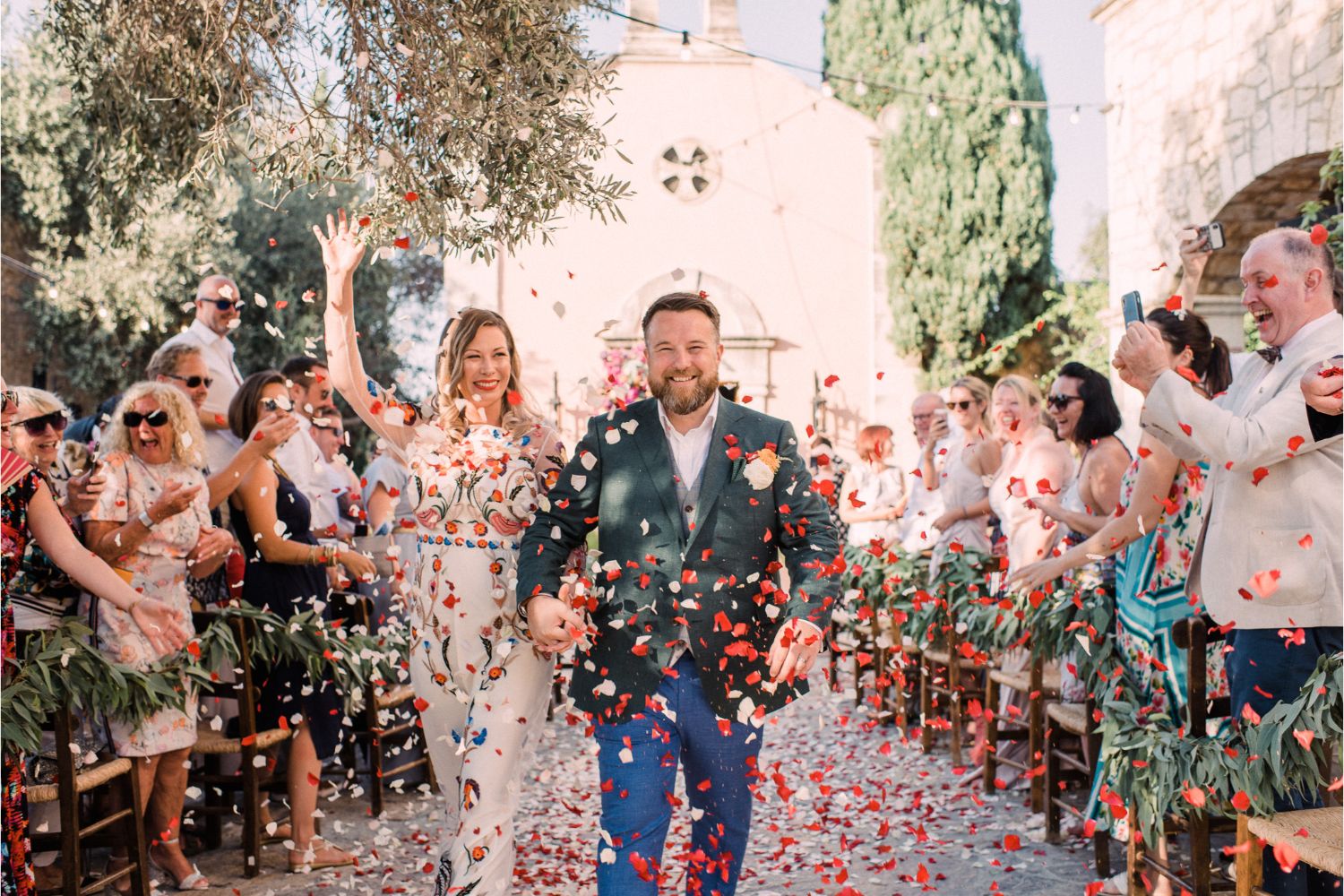 The day Clare & Richard made their bond official started with exciting preparations for both bride & groom. While Richard was getting ready for this special moment, Clare was pampered by beauty services professionals and changing into her truly ravishing dress!
When Clare shared with us the images of her bridal dress, our team got beyond inspired, building the concept of this civil wedding in Crete around its folky motives and bright colours. The decoration details all came together in a fascinating gamma: bridal bouquet of exotic flowers, eucalyptus garlands, and the bougainvillea "arch" – stunning floral arrangement around the church entrance. In the toned-down atmosphere of the rustic wedding venue, these colours looked tasteful and festive.
The ceremony of tying the knot was absolutely astonishing! It was a one-of-a-kind image: the fuchsia of bougainvillea arch, lavish garlands, stylish guests holding colourful fans and the rustic environment of the wedding venue.. We felt like we were in a movie! In the joyful yet intimate atmosphere set by our charismatic couple, the officiant pronounced them husband and wife. As the newlyweds strolled under the rain of petals confetti into the new chapter of their lives, everyone was invited to enjoy the cocktail hour with organic local snacks and sparkling wine. After sharing a toast with their guests, the bride and groom slipped away for a session with their photographer in the private setting of the olive groves.
As the newlyweds and the guests were taking their seats for the wedding dinner, the setting August sun filled the space with golden light. The bougainvillea compositions & lavish eucalyptus garlands laid on heavy wooden tables, balanced out with minimal and neat customised stationary. Children entertainers, invited to play with the youngsters, ensured both the newlyweds and their guests were relaxed and enjoyed every moment of this day!
With groom being behind the scenes of big events back in the UK and working with lights engineering, a great emphasis was given to the lights installation of their Big Day. Festoon lights across the terrace and neon effects in the courtyard of the venue gave the space a special ambient glow.
After excellent dinner of organic local dishes, Mr. & Mrs. together with their guests moved to the dance floor. The extensive sound system installed around the venue for the civil wedding of Clare & Richard provided excellent sound and let the DJ, close friend of the newlyweds, stir the crowd and make the most of the wedding party! Indeed, the newlyweds and their guests danced the night away to the sound of their favourite hits.
Delightful is the perfect word to describe the intimate wedding of Clare & Richard, one of our most joyful events or the year!