September Church & Winery Wedding
Jo & Giorgos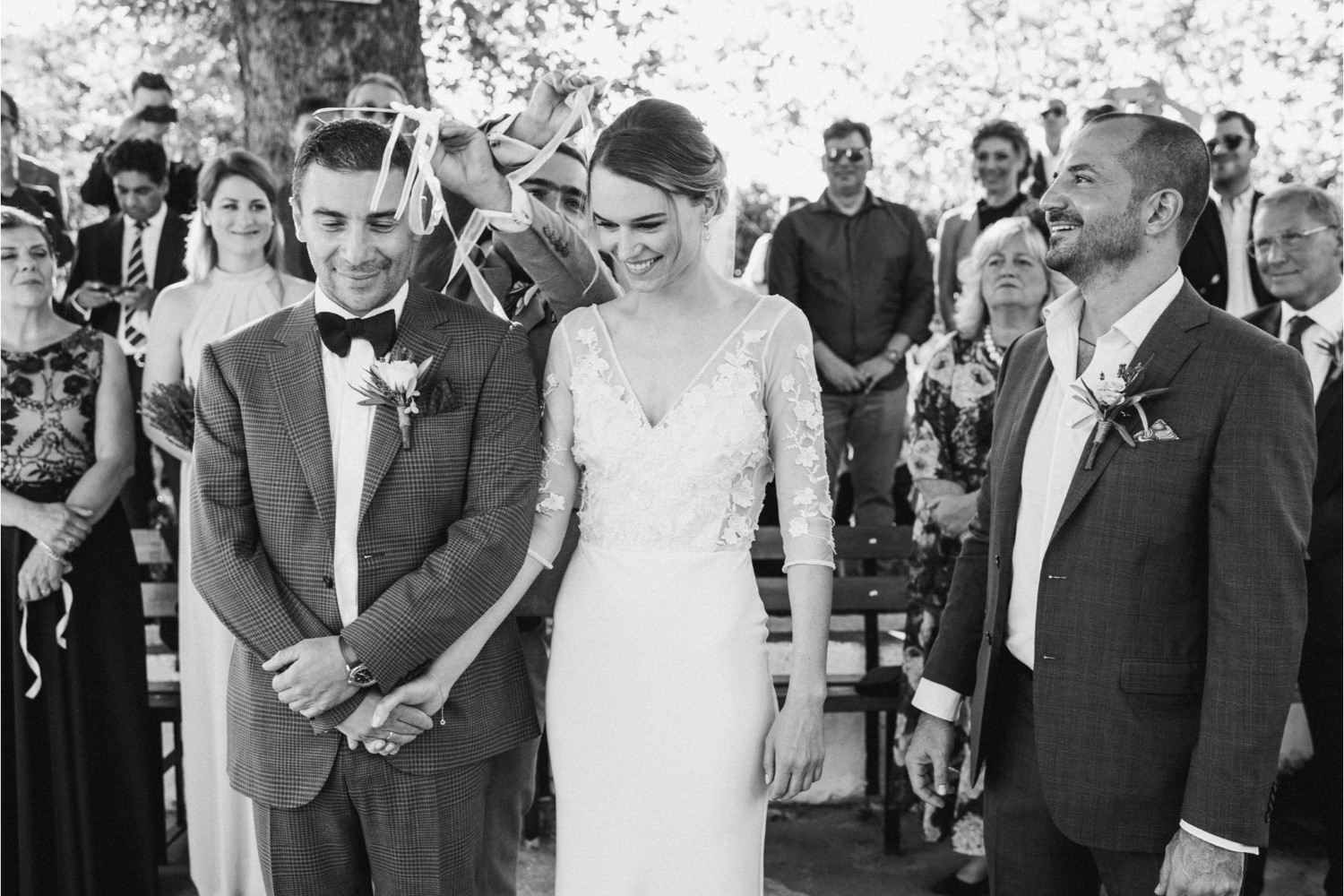 Georgios and JO! Two people who come from different cultures but share the same passions for adventures and profession. Throughout our 6 month relatively brief for destination wedding but solid communication to prepare things for their church wedding in Crete, we created an elegant, organic and minimal wedding abroad for around hundred guests.
The ceremony took place in one of Crete's most charming historic chapels, respecting traditions of a Greek Orthodox wedding. Jo and Georgios fell in love with this village rustic church not only for its beauty and spacious garden but also due to its name: dedicated to Saint Georgios, the chapel bore the same name as the groom, which added even more charm to the couple's choice.
The time has come, and on the sunny autumn afternoon Jo walked down the aisle radiating in her wedding dress, with her aetheric style & that unique bridal beauty to the admiring buzz of their guests and sublime bouzouki sounds. The beautiful Greek Orthodox wedding ritual made this bond official, and it was then the time to feast, drink and celebrate at Chania vineyard premises!
While the couple enjoyed their intimate couple photoshoot with their photographer, the guests arrived at the beautiful Cretan winery the couple has chosen for a relaxingcocktail, awaiting for the newlyweds. The venue was decorated in mint green and blush pink tones, with elements of olive twigs, lemons and lavender, the latter chosen to be the symbol of this wedding. Lavender florets were a part of every flower composition, every guest's favour and depicted on the wedding stationery. The lively vibe of the crowd was amplified by colorful cocktails from a bar catering and eclectic hors d'oeuvres, served by this rustic Chania winery.
The guests greeted Jo & Georgios with applause seating at the dinner tables, decorated with lavish fresh flower garlands, lots of candles and little fragrant lavender sachets, prepared with care from the groom's family for guests' favours. The exceptional food complemented by the winery's award-winning wine added to the magic of this September wedding in Crete, as much as the live band and the DJ that led the festivities deep into the night! A party & a couple will forever stay in our hearts!