October beach wedding in Chania
Ewelina & Pawel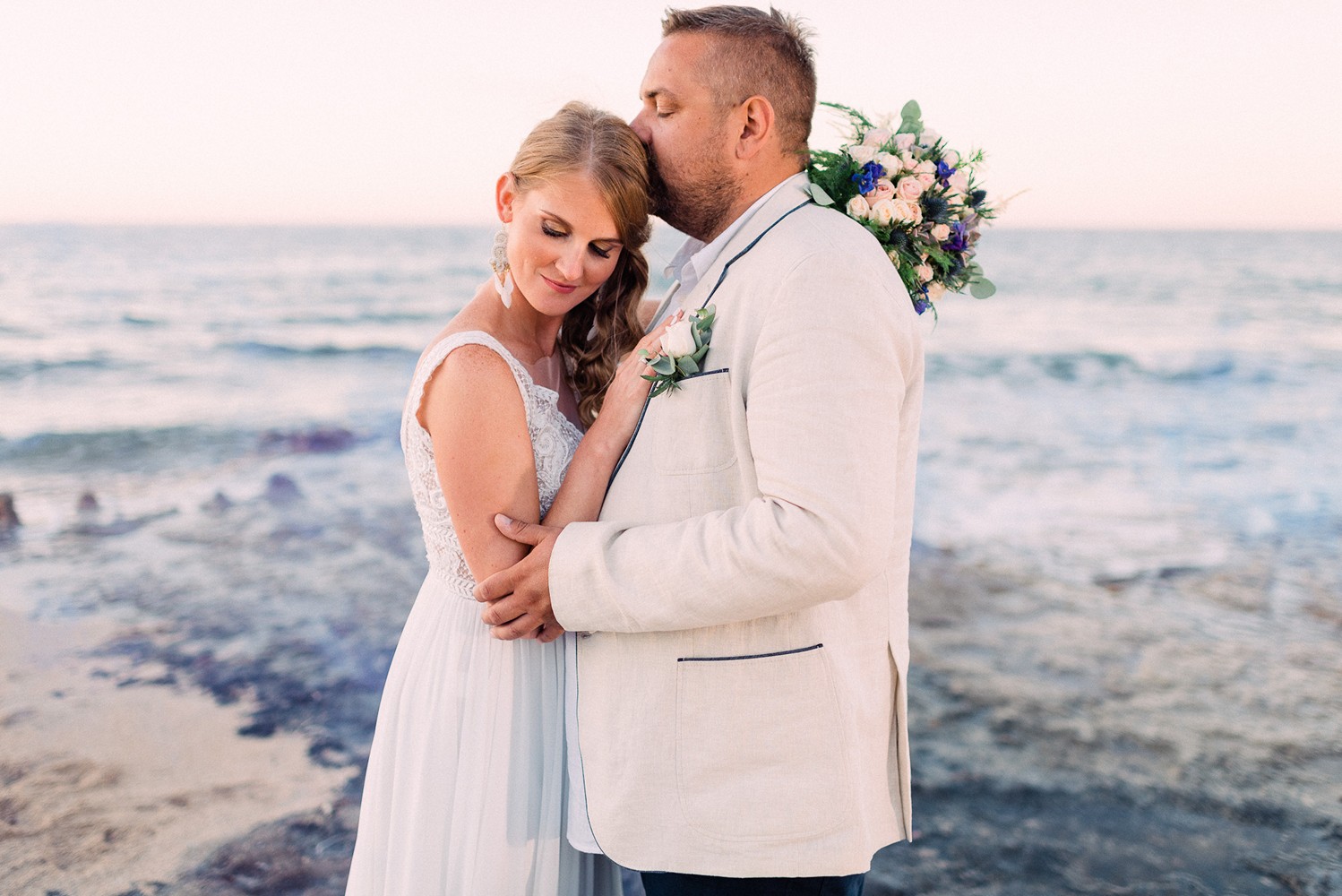 One of the first thoughts that comes to mind when meeting a couple that decides to plan their wedding with us is "Why Crete?  What made you decide to get married here?" It's always an interesting story that draws our clients to this Mediterranean island, and ultimately to Chania for their dream wedding.
The tale of Ewelina and Pawel is one of those adventures of an October beach wedding with unexpected twists and turns along the way.
With a wedding originally planned to take place on the South Indian Ocean island Mauritius, it just wasn't destined to be where they would ultimately exchange their vows.  This "covid wedding" had to be planned somewhere else – and it had to be fast, considering the unfavorable traveling circumstances and borders closing all over the world, including Mauritius.
After quickly researching their options, Ewelina and Pawel found that one of the only exotic locations that could safely host them for their beach elopement was Crete, and that is where Crete for Love comes into the picture.  They have been waiting for this moment for so long, and we were there to efficiently plan and execute it in less than five weeks.
The couple chose to have a beach elopement wedding, and they wanted to pair it with a photo session capturing panoramic views of seaside Chania.
Understated natural elegance was the idea behind the exotic and romantic elements characteristic of this intimate Mediterranean micro-wedding.  This was perfectly complemented by the attire of the couple.  The wedding dress worn by our lovely bride was light, summery, and flowing – perfect for an early autumn, October wedding on Crete.  The groom, in a cream-colored suit matched his love while being appropriate for the seasonally warm weather.
As seen in the photographs, the bridal bouquet had touches of blue according to Ewelina's request.  It was important that every detail, all the way down to the flowers was captured, which is why the couple made sure to invest in the photography of their elopement.  For them, the photos were what they would have as vivid reminders of their Cretan beach wedding journey.
Their love story was complete with an olive concept next-day photo shoot at Markakis Estate.  The photo shoot started early in the morning, chasing the best light of October.  Ewelina and Pawel really took advantage of the best sites of Chania for their pictures, including images shot in village scenery as well as the old Venetian Harbor.  And of course, there were outfit changes to spice things up.
It's wonderful to know, when despite the obstacles that this year brought for many, that we were there to bring to life the most important day that marks the beginning of their new life together.